Remote Track
For those who are not able to join the live, in-person activities in beautiful Hawaii, Indoor Air 2024 is offering a Remote Track. It will include access to all plenaries and one feature track of the in-person conference (streamed live with recording posted afterwards), as well as the opportunity to present a virtual poster and a highly limited number of live fully virtual platform presentations before/after conference hours. We understand that it can't match the experience of being with your colleagues in the room – and on the beach! – but we hope it will enable those who cannot attend to learn from and share your work with the worldwide community of indoor air quality scientists. This is not a fully hybrid conference, and Remote Track attendees can not present during in-person conference hours. The Remote Track will proceed as planned as long as we have at least 75 registrants by April 1, 2024, so register early if you're interested.

Key Features of the Remote Track:
Plenaries and Feature Track Sessions – Live and Interactive:
For attendees looking to catch the insightful plenaries and feature track sessions, we've got you covered. All plenaries and one feature track of break-out sessions will be live-streamed, and you'll have the opportunity to engage with the speakers and moderators by posing your questions in the chat. A selection of these questions will be chosen for live discussion with the presenters.
Present Your Work – Virtual Posters and Presentations:
We invite those who can only participate via the Remote Track to share your research and insights with the community. Submit your abstracts or papers for consideration during the normal abstract submission process. Remote participants can submit an extended abstract or paper, and propose to present via a virtual asynchronous poster presentation that includes a short video or during one of the very limited number of virtual platform sessions. The virtual sessions will be scheduled before/after the in-person program and during waking hours for people in different regions of the world. Remote Track attendees will not be able to present during in-person conference hours.
Access to Recorded In-Person Talks:
All live-streamed events will also best posted as recording after the event. For those who want to explore a broader range of content, we offer the option to view a subset of recorded in-person talk videos. These recordings are provided by speakers (optionally) who have been invited to share their non-feature track talks on Pheedloop, our conference platform.
Remote Track Offerings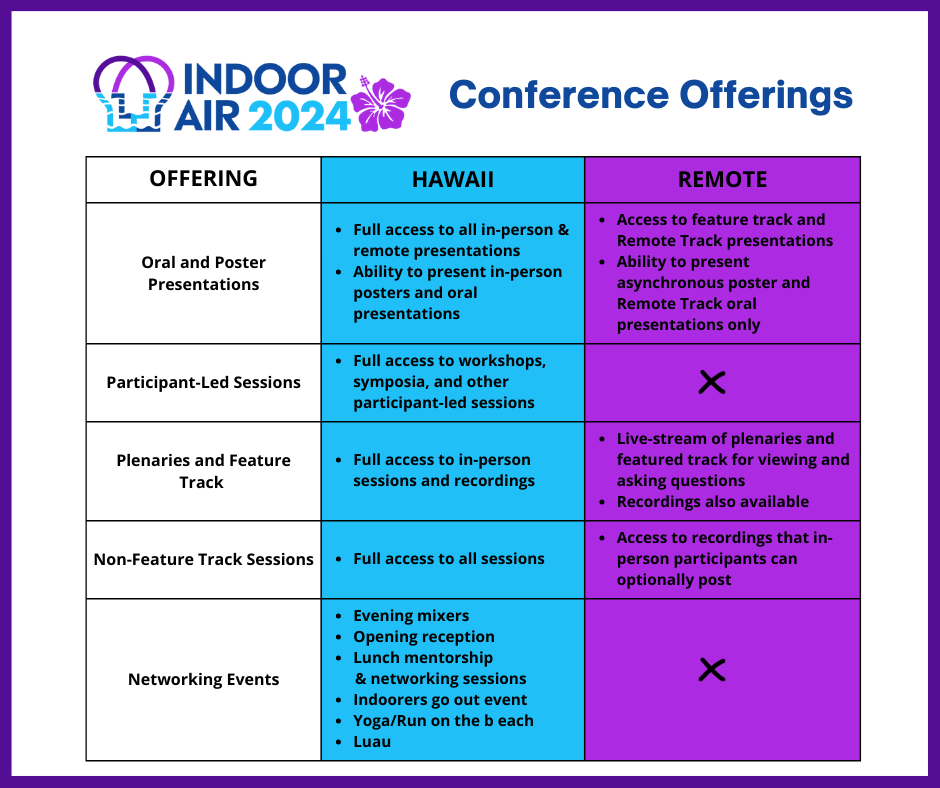 FAQ
Will the Remote Track be similar to attending in person?
In short, no. The live conference will be an engaging, interactive experience with joint meals, social events, networking, and opportunities to spend time with old friends and make new connections – all amidst the beauty of Hawaii! We are unable to offer a fully hybrid experience, so only in-person attendees can present during the in-person conference hours and will have full access to all conference content, including participant-led sessions such as symposia and workshops and all non-feature track presentations. In-person attendees will also be able to attend conference networking events such as an opening reception, evening mixers, optional Luau, morning run/yoga, Indoorers Go Out events, a mixer, coffee breaks, special lunch panels, and lunch networking/mentoring events. The Remote Track is designed to give people who cannot attend in-person the opportunity to access featured technical content and the ability to share their work via virtual posters or platforms, but it is not a virtual version of the event. Indoor Air conferences are truly special events that bring together our global community every two years, and the next will not be until 2026. We hope you can join us now! 

We are planning to produce the Remote Track as announced, and will be able to provide it as long as we have at least 75 registrants by April 1, 2024.  Any registrants in an altered scenario would receive a refund.
How do I submit a session for consideration in the Remote Track?
Submit an abstract as you would for normal consideration in the conference program.  In the spring, we'll ask you to confirm if you would like to present it in-person or remotely.

Remote Track attendees will not be able to present during in-person conference hours.
How do I get an oral presentation in the Remote Track?
We only have a highly limited number of oral presentation options for the Remote Track. You can indicate your preference for oral or poster presentation on the submission form. All extended abstracts and papers will be reviewed by our technical program committee and ranked for selection in the virtual track. A subset will be selected for oral presentations, and all other accepted submissions will be offered a remote asynchronous poster presentation option. Accepted submissions will be included in the conference proceedings.

Remote Track attendees will not be able to present during in-person conference hours. These presentations will occur 100% virtually.
What do I have to do to present a poster as a Remote Track participant?
Virtual posters will include a PDF poster and a short video, all available on the Pheedloop platform for asynchronous viewing. You can also explore virtual posters, as well as posters from in-person attendees (an optional and encouraged feature for those on-site) that choose to share their work on Pheedloop.
What opportunities are there for Remote platform presentations?
Remote participants can share their work and learn from others through the series of live, virtual sessions that will be moderated by remote participants. A limited number of oral presentations from remote attendees will be live-streamed. These sessions will be scheduled to not compete with live-streamed track of the in-person conference and occur at times that facilitate participation from all regions of the world where there is interest. The times will be before or after in-person conference hours (local time GMT-10) and the sessions will be accessed 100% virtually. You will need to be remotely present for the live sessions

if you're selected for this option.

There will be no participant-led sessions as part of the Remote Track.

Remote Track only attendees will not be able to present in the in-person conference for oral, poster, or participant-led sessions. They will also not be able to attend networking events.
If I attend in-person, can I view the Remote Track?
Yes! The in-person registration includes all features of the remote track as well. Recordings will also be available after the conference.
Can I attend the participant-led sessions (symposia, workshops) remotely?
Unfortunately, we are unable to offer remote participation in the participant-led sessions. At least one organizer must attend the conference in person to run these sessions. For symposia, participants will optionally be able to upload a recording of their individual presentation onto PheedLoop for viewing.
What goes into the registration cost of the Remote Track option?
The Remote Track option incurs costs that need to be covered by the registration rate. This includes (but is not limited to): technical support staff, technical program platform, enhanced audio/visual equipment to conduct the livestream, event planning staff, use of the conference venue, and more. Those attending the Remote Track will need to register to cover the costs associated with that track of the conference. Fortunately, they will save on travel costs.